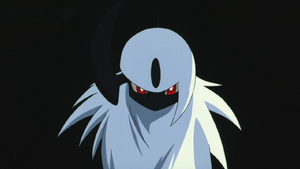 Grey is an Absol who originates from the forests of Hoenn, although he has traveled to most of the far reaches of the Pokémon Universe. Serious by nature, he maintains strong friendships with many of the other main characters.
Backstory
Edit
Before becoming involved in the stories and adventures contained in the RP, Grey worked with his love interest, Luna, to fight disasters and aid those in need. After her death, he wandered the world for a time, feeling lost without her by his side. Soon enough, he found himself a cozy little forest, built a roost, and decided that he would continue his rescue work in the spirit and memory of his departed Luna. After the shift to the new world, he took up residence in a new forest, built a new roost and assumed the role of guardian.
Abilities and Quirks
Edit
Because of his extensive meditation and emotional mastery, Grey has limited psychic abilities along with the peculiar ability to absorb light and use it to bolster his power. He was born a particularly lucky Absol (Super Luck) and always carries his lucky Razor Claw.
Community content is available under
CC-BY-SA
unless otherwise noted.